Welcome Midwest Horse Fair Attendees!
Our artists take American-made horse and pony shoes and turn them into pieces of art that you will cherish for a lifetime!
Our artists and supplies are born of this beautiful nation.
We started selling on Etsy over 6 years ago and our reviews speak for themselves!
Our artists make each piece by hand.
Free shipping in the Continental USA
Don't see us at the booth?
Out of stock of the product you want?
Absolutely not a problem.
If were aren't at the booth we are either out enjoying the show (we love this show) or we are taking a bathroom break - but don't let that stop you from getting yourself some new, beautiful, horseshoe art.
We are an e-commerce store that started on Etsy so we can make and ship whatever you'd like whenever you like.
The internet can be a wonderful thing.
We make all of our products by hand and we only bring a few to the show to sell and use as an example.
Most of the sales we make at any trade show go through our website and then we ship them out a week or so later - FOR FREE.
Working like this allows us to make our time at the show a little more efficient and it allows you to be able to get the exact piece you want - I mean, we can't really weld together custom stall plates at the show live for you.
(I mean... we can't do that...yet...)
Just follow the instructions on the rest of the page and let us figure out the rest!
And don't forget to use your exclusive Midwest Horse Fair discount code at checkout for 25% OFF!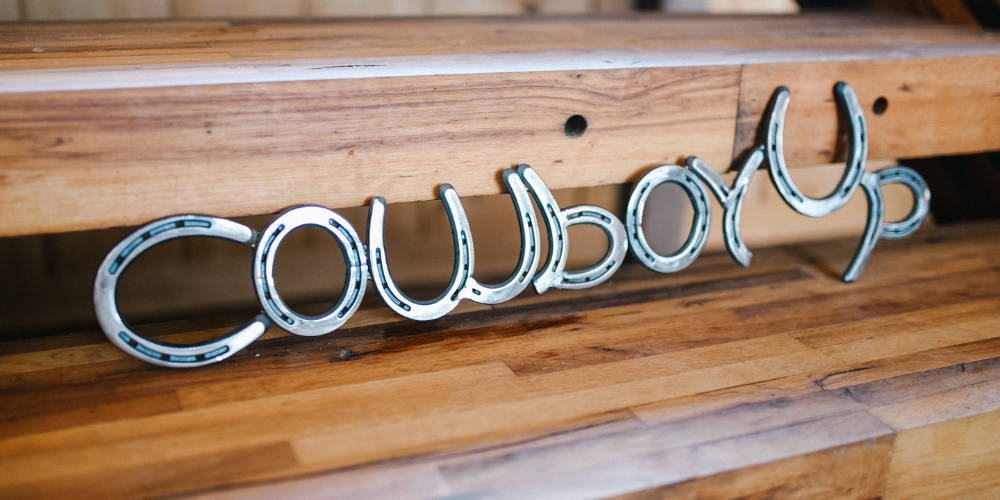 Click the button at the top of the page to head to the art section of our website.
Decide on either a custom stall plate name or one of our other handmade sculptures.
Step 3 (Only for custom stall plates)
Decide on which word you want us to create and count how many letters that word consists of. Add that number of letters to your cart and then let us know what the word is by typing it in the notes section of your order at checkout. For example "Duke" would be 4 letters.
Add them to your cart and checkout - if we are away from the booth or the item you want is sold out at the show we will ship you one for free as soon as we make more!
Step 5 (Exclusive Midwest Horse Fair Discount)
Add the discount code "MIDWESTISTHEBEST" at checkout to recieve an exclusive 25% OFF coupon for being one of the awesome people to attend this great show! Then checkout as normal!
We will be keeping this discount code active for the next week or so incase on your way home you decided that you just can't live without some new, hand crafted, American-made, pony shoe art.
But after that it will be gone forever!



---
Time Left To Use "MIDWESTISTHEBEST" For 25% OFF Your Whole Order
---